HCM and Other Campus Systems
HCM is one of the major campus business systems at UC Berkeley.
Other campus business systems include:
PPS (Personnel Payroll System): For payroll transactions and benefits
OPTRS (Online Positive Time Reporting System): Subsystem of PPS for time reporting
BFS (Berkeley Financial System): For financial transactions
EDW (Enterprise Data Warehouse): Data hub for campus systems and reporting
Data from HCM and PPS are fed to the data warehouse (EDW) overnight and can be accessed via reports in BAIRS (Berkeley Administrative Initiative Reporting System) or by other systems using tables or views in the EDW. The EDW feeds HCM data to the CalNet directory and the Cal1Card.
This chart shows the relationship between HCM and the other systems.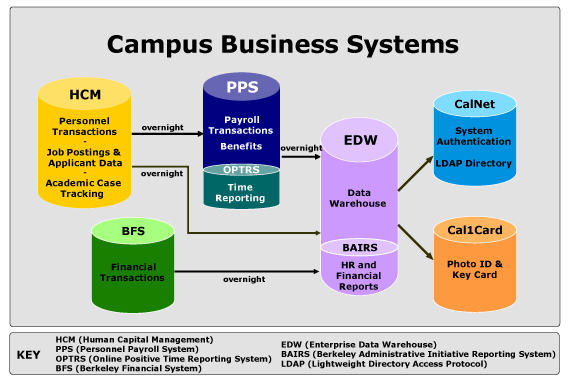 Additional Information
[collapse all] [expand all]
Click on the appropriate item for more information.
How HCM relates to the CalNet Directory
Personnel information (for Employees and Contingent Workers) must be entered in Workforce Administration before any Campus identity or Eligibility data can flow to other campuswide systems. Employee information entered in HCM will be in the Payroll system by the following business day (PPS, OPTRS).
Employee and Contingent Worker information will be available to the Campus Directory by 10 a.m. the following business day (assuming transactions are entered correctly and system-to-system updates run as scheduled).
Why the CalNet Directory is Important
After a new employee or contingent worker appears in the CalNet Directory, the employee's CalMail account, Calagenda subscription, or a CalNet User ID / Passphrase (needed to log onto an increasing number of Campus systems) can be set up by the employee's home department.
While CalNet gets name and eligibility data from HCM, these other systems get their information from CalNet's Directory or the Data Warehouse. For more information about CalNet please visit the CalNet website.
CalAgenda, the online calendar service for Berkeley faculty and staff, gets name and contact information (such as email address) about its subscribers from the CalNet Directory. When a CalAgenda subscriber makes changes to the Campus directory, those changes will automatically update their CalAgenda account as well.
This change does not affect any meeting data in CalAgenda. If a subscriber's name in CalAgenda differs from the name listed in the CalNet directory, CalAgenda will use the name found in the CalNet directory. For more information go to the CalNet Questions & Answers website.
HR/Payroll Name vs. Campus Directory Name
An employee's name must be entered in HCM exactly as it appears in his/her Social Security Administration documents (otherwise departments could face federally-imposed fines). The name, as entered in HCM, will be used in the payroll system and in all subsequent pay, tax and benefits records generated by the University.
The CalNet Directory will initially use the name as entered in HCM. However, there is no requirement to use a more formal name in the Campus directory. For example, if a person prefers to be known as "Mike", he can change it in the CalNet Directory and it will automatically change to "Mike" in CalAgenda. This will NOT, however, change the name in either HCM or PPS.
HCM Contact Information vs. CalNet Contact Information
The CalNet directory does not display contact information entered in HCM Personal Data. Having a listing in the public Campus directory is voluntary and must be done separately by going to the Directory Listing Update page. Individuals can enter or update their contact information themselves, or the Departmental Directory Contact can do it on their behalf.
Certain campus systems, like the Learning Center or SARA (Systems Access Request) will not work properly if the person does not have an email address listed in the campus directory.
Similarly, changes made in the CalNet Directory will NOT update Workforce Adminstration. The Workforce Administration record has to be updated separately, either by the employees using Self-Service or by the Department HR Administrator on their behalf.
Unlike the Campus directory, contact information in HCM is not publicly available. Only departments and a limited number of Central campus offices can access this information and only for business purposes. For example, the "Business" type Phone and Email entry in HCM is used by the system to generate transaction notices, and create certain rosters. Home address is used for important pay, benefits and tax mailings.